HOTEL & SERVICES
Welcome! The Hotel Le Royal 3* Luxe is a new reality
in welcome and hospitality in Paris
It is located in the heart of Paris, nearby the Luxembourg garden, the Saint-Germain-des-Prés quarter
and at less than ten minutes walk from the Montparnasse train station.
CONCEPT & DESIGN
The hotel offers its guests a contemporary decoration in a cozy and cozy atmosphere.
With this hotel, our goal was to create a charming hotel that combines contemporary decoration and neoclassical style in order to lull us into a unique and distinctive atmosphere.
Common places welcome customers to a dimension where comfort, a relaxing atmosphere and service are combined with the present.
We recently added:
- a wine by the glass dispenser at the reception
- a high table serving as a bar to taste our vintage wines
- a large-dimensional touch screen that will allow you to use the internet in a more fun and innovative way
- an interactive screen that will continuously distribute the most relevant information of the moment
BREAKFAST
Buffet service from 7 a.m. to 10.30 a.m. at the price of 15 €
Our breakfast invites you to start the day gently and with greed.
To taste it, take a seat in a very beautiful room and a glass roof in the light of day Served as a sweet and savory buffet, it is made up of fresh, quality products. Breads, brioche and pastries Organic cereals Omelettes Organic charcuterie Cheeses, including an organic camembert, an organic brie,
an organic goat cheese and an organic emmental. Organic yoghurts and organic compotes Organic fresh fruit Fruit juice and milk. Organic coffee, organic teas Butter, jams, organic honey, spread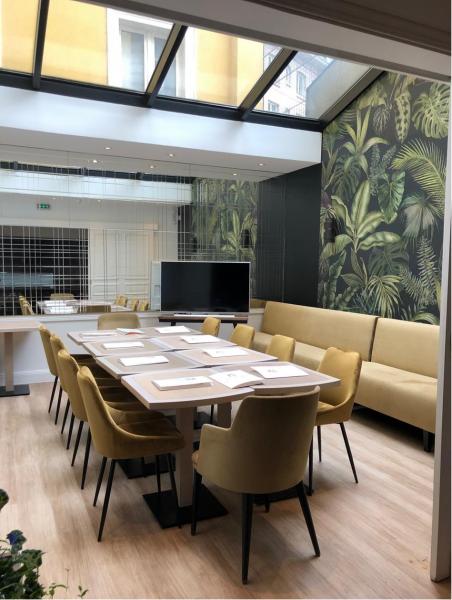 MEETING ROOM
Thanks to its central position, the Hotel Le Royal Rive Gauche is the ideal place to organize meetings and events.
The hotel has a meeting room, equipped with Wi-Fi Internet connection and technical equipment.
The meeting room can be arranged as a meeting room, as a classroom, in a U-shape. It can accommodate 12 people.
Do not hesitate to contact us for any request for reservation or information.
OTHER EQUIPMENTS
Reception 24/7
Concierge touch screen terminal
Shuttle reservation or transfer from or to the airport
Corner lounge bar
Free Wi-Fi
Computers at the reception
Luggage storage
Laundry and ironing service
Completely non-smoking hotel